Plain Tubes (Clot Activator)
Blood Collection Tube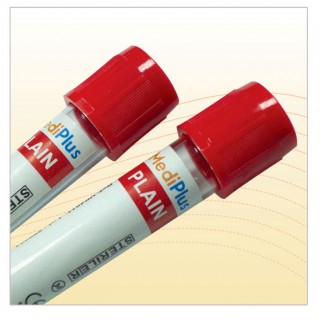 Plain Tubes - Clot Activator (Blood Collection Tube)
These blood collection tubes are generally used for serum tests in the fields of serum biochemistry and serum immunology.
Additives
Our plain tubes come in two types: one with clot accelerator, and the other with no additives.

Our clot accelerator is in the forms of thrombin coagulant and coagulation inducer, both of which were treated with advanced technology, to ensure that blood samples are in an exceptional state for testing after centrifugation. The serum is clear and transparent after centrifugation, and no inner wall build-up will ever occur. We utilize the most advanced spray coating technique, so that the coagulant is spread evenly on the inner walls of the tubes. Once the blood sample enters the blood collection tube, it interacts with the coagulant completely, preventing possible fibrinogen precipitation or hemolysis due to incomplete or uneven coagulation. In addition, it also prevents any particles from contaminating the samples or clogging the sample analyzers.

Our thrombin coagulant uses a unique drying technique under constant temperature, which helps activate coagulation factor I directly. It helps with the coagulation of some patients' samples if they lack a certain coagulation factor.

The coagulation inducer can activate coagulation factor XII, to shorten the clotting process. It can also prevent breakage of blood cells which is normally difficult to deal with during the process of quick coagulation.
Recommendation
Invert and back the sample 5 to 6 times. For centrifugation, run the sample at ≤1,300g for 10 minutes.
Specification
Product Code
Size
(mm)
Volume
(ml)
Additives
Material
Cap Color
Packing
(Box/Case Qty)
VP4011
13 x 75
4
Clot Activator
PET
Red
100/1000
VP5011
13 x 75
5
Clot Activator
PET
Red
100/1000
VP6012
13 x 100
6
Clot Activator
PET
Red
100/1000
VP7012
13 x 100
7
Clot Activator
PET
Red
100/1000
VP1013
16 x 100
10
Clot Activator
PET
Red
100/1000
VP1014
16 x 100
10
Rubber Stopper Only
with Clot Activator
PET
Red
100/1000
TAG: Blood Tubes,Blood Collection Tube,
Contact Sunphoria to Get a Quotation Now!